Welcome to Angel Wings Art and I hope you enjoy your visit! I love working with Spirit and Angels; and bringing them closer to you. They have a special energy for guidance, protection and love. I specialise in finding Beautiful Angel Gifts for Birthdays, Remembrance, Healing and your Personal connection to Guardian Angels. Our shop has grown to include Fairies, Crystals, Unicorns, Chakra products and much more!
My Angel Paintings are Divinely Inspired by Spirit. Each one is personal and comes complete with a Certificate of Authenticity. Discover more about my Angel Art and their Special Messages HERE.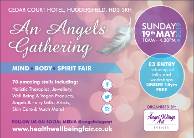 Contact Us
Email: angelwingsart@live.co.uk
Telephone: 01282 534274 or 07984483386
Angel Wings Art® 2011-2019.