Welcome to Angel Wings Art and I hope you enjoy your visit! I love being a Psychic and Clairvoyant connecting with Spirit and Angels; and bringing them closer to you. Angels have a special energy for guidance, protection and love, and it is my passion to bring them through in my Readings and Angelic Art. We also specialise in finding beautiful Angel Gifts for Birthdays, Remembrance, Healing and a personal connection to your very own Guardian Angel. Our spiritual shop has grown to include Aura Sprays, Crystals, Unicorns, Chakra gifts and much more. There are also new pages to discover the Archangels; what they do and how to work with them!
My Angel Paintings are Divinely Inspired by Connecting to Spirit and the Angelic Realm. Each one is personal and comes complete with a Certificate of Authenticity and guidance on how your Angel is helping you right now. Discover more about my Angel Art and their Special Messages today. Why not book in for an Angel Card Reading too and see what your Angel has to say to you!
Psychic, Card Readings and Holistic Treatments such as Reiki can be booked 1-2-1 for our Therapy Room in Colne or I can travel to you within Pendle, Skipton or Keighley Area. Discover more about these on the
Holistic Services Page
. If you live further afield I offer distant healing and online readings that can be emailed to you or video called!
Due to Covid-19 there are no 1-2-1 appointments available other than through facetime, zoom and whatsapp. As soon as we are able to take bookings dates will be given. But for now safety is paramount for our customers and we promise to be back soon.
May the Love & Light of the Angels be with you Always xx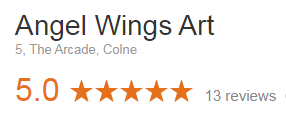 Our gorgeous Angel Gifts bring such comfort and joy whether it be to watch over you or someone close. We have gift ideas for everyone who has lost a loved one to spirit, needing inspiration from the Angels or requiring a little guidance.
We pride ourselves in bringing new and unique spiritual gifts so if you can't find what you're looking for or are searching for a specific Guardian Angel Gift then please get in touch.
Angel Wings Art was created in 2011 and is now a registered Trademark. Our passion for Angels is at the forefront of why we have grown and developed over the years. I hope this shines through in the customer service we offer.