Welcome to Angel Wings Art and we hope you enjoy your visit! Jayne Tunney is Angel Artist and Holistic Practitioner specialising in connecting with the Spirit World and Angelic Kingdom. Angels have a special energy for guidance, protection and love, and it is her passion to bring them through to you in Card Readings and Spiritual Art. In the Gift shop you will also find beautiful Angel Gifts for Birthdays, Remembrance, Healing and a personal connection to your very own Guardian Angel. Feel free to browse and please get in touch if you would like any help.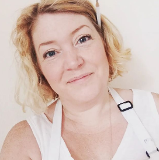 Jayne Tunney's Angel Paintings are divinely inspired, channelled and creative energy expressions. Each one is unique on a high quality canvas to last a lifetime and comes complete with a Certificate of Authenticity. Discover more about her Angel Art and their Special Messages today by clicking HERE. By taking a look at the About Jayne page or Angel Gallery page you will discover more about how Jayne works and creates her art.
From Jayne...
Angel Gifts
bring such comfort and joy whether it be to watch over you or a loved one. We have
Gift Ideas
for everyone and
pride ourselves in bringing you unique, special spiritual gifts.
My passion for Angels is at the forefront of every order, every connection and every piece of personalised art. I hope this shines through in the customer service we offer too.
I believe Angels watch over us and have many different roles to play in our lives. They create wonderful connections so maybe you're visiting us today as directed by your Angels!
Why not sign up to my
Free Monthly Angel Guidance Newsletter
too... This year is about finances, creativity and seeking expansion in all areas of our lives so it's the perfect time to learn all about the Angels!
Jayne Tunney also provides Angel Card Readings and Holistic Therapies such as Reiki. They can be booked 1-2-1 near Colne or mobile within Pendle, Skipton or Keighley Area. Discover more about treatments on the
Holistic Therapies
page.
If you live further afield Jayne offers distance healing and online readings that can be emailed to you or via video call on Facetime,Insta Call, Zoom and Whatsapp.
May the Love & Light of the Angels be with you Always xx

Contact Us
Email: angelwingsart@live.co.uk
Telephone: 01282 534274 or 07984483386
Laneshawbridge, Lancashire
Angel Wings Art® 2011-Present