Angel's That Have Flown & My Colour Meanings...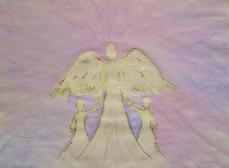 Above: One of my very first Angel families created for personal reasons and has since become a best selling greeting card.
Below Archangel Seraphiel in shades of burnt oranges and golds. This is a stunning Archangel whose name means Prayer of God. He is the chief of the Seraphim Angelic Choir, those Angels closest to God. He works with them to send out the love and energy of God to those who most need it. Sold x
My Colour Work With Angels
Angel Colours... I mainly work with varying shades of Pinks, Purples and Blues with the Angel in White and Silver. The reason for this is within the Spiritual colour meanings themselves:
Pink: Unconditional Love, Comfort, Commitment and Well Being
Purple/Lilacs: Strength, Divine Connection and Spiritual Balance
Blues: Inner Peace, Stability, Sensitivity and Intuition
White: High Energy Levels, Enlightenment and Purity
Silver: Links to the Spirit World and Mystical Properties
Gold: Upliftment and Wholeness Within Oneself. Gold has always signified Love from the Spirit World and surrounding yourself with Golden Energy is the way to immerse yourself in Peace and to Connect with your Divine Creator.
Below: 'Found You' Vibrant Pink canvas with two Silver Angels...Have you found your Soulmate or Twin Flame? SOLD x
Here you can explore a collection of photos of my work from Canvas to Cards...I hope they give you a better understanding of my Special Angels.
Please do not copy any of the images. These Angels have found special forever homes.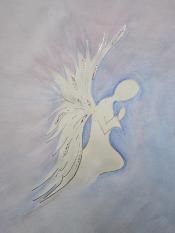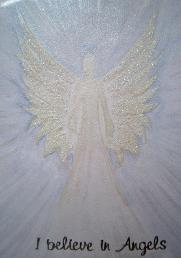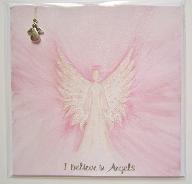 I believe in Angels... A Custom Made Angel Wings Card. This is the most popular and loved printed Angel that I do!
To Request Your Very Own Angel Painting Please Click Here To Find Out More. Clairvoyant readings are also available to go with your Angel.
Prices Start From Only £7.99!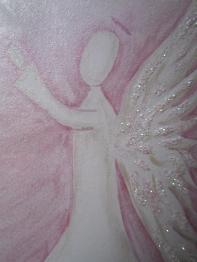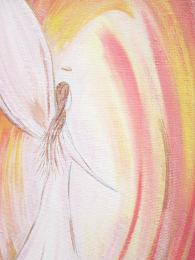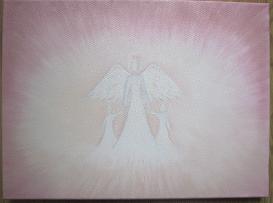 Above: My Angel Family in Pink & Blue. A gorgeous peaceful painting depicting a beautiful Angel looking after the children of this world and the next xx BOTH SOLD. The pale blue one has been printed onto matt card & can be found in Angel Greeting Cards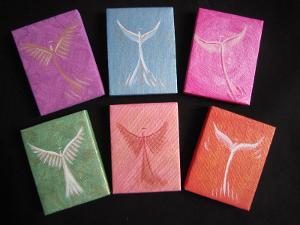 Above: A selection of Mini Canvases with Easels!
Not everyone has room for big Canvases so I've created some small ones that could be placed anywhere in your home...see the Art Shop for individual meanings of the paintings!
Below: A sample of my vibrant Angel paintings in Acrylics xx
Protection of Artist & Art Work
All Angel Wings Art Designs & Angels Are Copyright Protected And All Work Made Will Be Initialled And Dated On The Back. Paintings will also have a Certificate of Authenticity as each one is unique. Many of the Angels on this page are re-homed already and are now the property of an individual who wish for them to remain personal. These images are for display on here only so please do not copy or replicate.
Angel Wings Art 2011-19. All images copyright of Artist Jayne Tunney - No reproduction without permission.