Terms and Conditions
Privacy Policy
At www.angelwingsart.co.uk the privacy of visitors is of extreme importance and we are fully GDPR Compliant. This privacy policy outlines the types of personal information received and collected by www.angelwingsart.co.uk and how it is used:

a) information relating to any transactions carried out between you and I on or in relation to this website, including information relating to any purchases you make on this site for goods or services i.e. name, address, email, contact number, payment method and product
b) information that you provide for the purpose of subscribing to website services, email notifications and/or newsletters
c) any other information that you choose to send via notes on orders or directly via email or telephone
d) Yola uses cookies to enhance your browser experience so you will see a pop up asking you to accept. By accepting we can assist and tailor your experience of this site.
e) Google Analytics Mark Up means that when this site is clicked (via Google) or navigated a report can be created to allow us, the site developer, to learn how we can improve certain pages, your experience and Googles understanding of what our site has to offer you.
Your Personal Information
Personal information submitted via this website will be used for the purposes specified in this privacy policy only:
a) send to you goods purchased via the website, and supply to you services purchased via the website by address or email provided
b) send statements and invoices to you, and collect payments from you online
c) send you email notifications which you have specifically requested and to keep you up to date with your order processing
d) deal with enquiries and complaints made by or about you relating to the website and its contents
I will not provide your personal information to any third parties for the purpose of direct marketing. Should you wish to amend, view or request deletion of your personal details please use the Contact Me button, email angelwingsart@live.co.uk or in writing to the address below. We only store/use your information for as long as is needed to be able to provide the services to you.
Security of your Personal Information
I take all reasonable technical and organisational precautions to prevent the loss, misuse or alteration of your personal information.
The email newsletter request form is handled via JotForm and Mailchimp. All emails sent contain an opt out/unsubscribe option as is your right as the recipient. Your information is automatically deleted if you decide to use the opt out/unsubscribe option. JotForm and Mailchimp are fully GDPR compliant and do not use any other 3rd Parties. Your name and email are only used for the sole purpose of sending you the email newsletter.
Your personal order details are handled by Yola Store, Square and PayPal, depending on your payment method. I do not keep printed records of any personal data. Paypal do not send me any private payment details other than the amount and item purchased, along with your name and address for postal purposes. I access these sites to complete orders and send email/newsletters. Your information on these sites is not shared with any other parties or 3rd Parties.
Payment Policy
All Angel Wings Art website and invoiced financial transactions are handled through my payment services providers, PayPal & Square. You can review the PayPal privacy policy at www.paypal.com. You DO NOT need a Paypal account to place an order as you can checkout securely as a guest using a variety of Debit/Credit Cards.
Alternatively you can select my Card Provider Square and Phone Payments are also processed by Square . Information on how Square works can be found Here.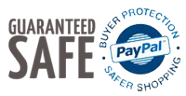 Conditions under which You may use Our site: This website is for purchasing goods our events, venue details, what you can expect on the day and which exhibitor will be attending. It is also so that you can connect with us directly, through a form or via social media.
Advertising to site visitors: By following us on social media or signing up to our newsletter you agree that we can send to you event adverts/newsletters and information relating to up coming events. We do not advertise on behalf of anyone else and will use what we feel is relevant to your interests. Links on this page are not endorsed or paid for, they are for your interest only.
Please note: The EU legal age of consent for GDPR is 16 so you must be over this to contact us or connect via social media and we accept no exhibitors at our events under the age of 18yrs. No readings at events will be given to under 18yr either.
This site and its components are offered for informational purposes only; this site shall not be responsible or liable for the accuracy, usefulness or availability of any information transmitted or made available via the site, and shall not be responsible or liable for any error or omissions in that information.

Disclaimer for any liability: We cannot be held liable for any links, their services, products or information given by them. I am not responsible for the privacy policies or practices of these third party websites. You should consult the respective privacy policies of these third-party sites and advertisers for more detailed information on their practices.

By accessing and using this website: You accept and agree to be bound by the terms and provision of this agreement. In addition, when using this websites particular services, you shall be subject to any posted guidelines above. These may be modified from time to time. All such guidelines or rules are hereby incorporated by reference into the TOS.
Disclosures

I may only disclose your Personal Information: (a) to the extent that I am required to do so by law (b) in order to establish, exercise or defend my legal rights (including providing information to others for the purposes of fraud prevention).

ANY PARTICIPATION IN THIS SITE WILL CONSTITUTE ACCEPTANCE OF THIS AGREEMENT. IF YOU DO NOT AGREE TO ABIDE BY THE ABOVE, PLEASE DO NOT USE THIS SITE.
Copyright Notice
The copyright in this website and the material on this website (including without limitation the text, computer code, artwork, photographs, images, music, audio material, video material and audio-visual material on this website) is owned by I, Jayne Tunney and my licensor's.
You must not adapt, edit, change, transform, publish, distribute, broadcast, or show in public this website or the material on this website (in any form or media) without prior written permission.
The Protection of Copyright is very serious. If it is discovered that you have used copyright materials in contravention of the licence above, legal proceedings may be brought against you seeking monetary damages and an injunction to stop you using those materials. You could also be ordered to pay legal costs.
Contact

If you have any questions about this Privacy Policy, Terms & Conditions or the treatment of your Personal Information, please write to me by email to angelwingsart@live.co.uk, using the contact Form or by post to -
Angel Wings Art, 3 Oak Terrace, Keighley Road, Laneshawbridge, Lancashire, BB8 7HT
Angel Wings Art is a registered Trade Mark to Jayne Tunney.
2011-Present.